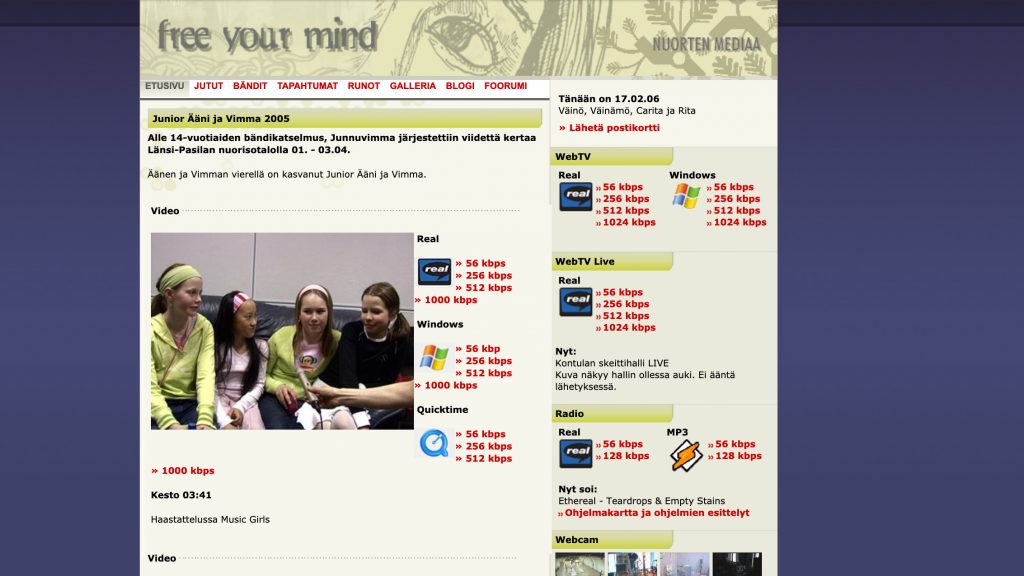 Digital Archive
The Digital Archive of youth culture records materials related to youth work and materials produced by young people. The archive collects both old footage and new digital material.
What type of materials are found in the Digital Archive?
The archive compiles photographs, music videos, short films and recordings, among other things. The materials can also be reused later, if necessary (for exhibitions, publications, etc.), provided that there are no copyright issues.
Junior Ääni ja Vimma 2005
A documentary about the 2005 Junior Ääni ja Vimma band competition. Directed by Sike Sillanpää.
From a youth art event to Loiste
Martti Suosalo and Satu Silvo share their memories of young people's art events. Suosalo was involved in the activities of Narri Stage in 1983. Background material from youth art events Hohto 1994, Loiste 2002 and Loiste 2003.
Supafly 3
A documentary about hip hop culture in Itäkeskus in Helsinki. Interviews with Uniikki (a Finnish male rapper), among others. Read more about the history of Supafly.
Can the archive help me digitise my own materials?
The digitisation station can be booked by young people aged 15-29-years-old and Youth Services workers. If you wish, you can save the digitised materials in the Digital Archive, where they will be retained for future generations.
The Digital Archive also allows you to convert old audiovisual materials into digital format. Do you have old video tapes containing memories from years ago? Do you have slides, negatives or images on paper that you would like to enhance digitally? We would be glad to help!
Transfer is possible from at least the following formats:
VHS/S-VHS
miniDV, DVcam
hi8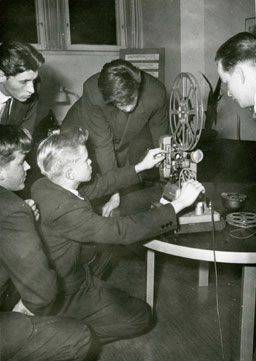 Works by young people were widely on display on
Youth Media has implemented live streams from 2000 onwards. The Digital Archive contains several cultural events in which young people dance, perform music and theatre and paint graffiti, among other things.
Documentary: Ääni ja Vimma 2014
Young volunteers from HattuMedia carried out massive recording projects at several Ääni ja Vimma events. The documentary shows the moods of the ÄV final 2014.
The Hattutehdas website in English
Photo Archive
The Digital Archive also includes a Photo Archive containing photos from the 1940s to the present day. In the Photo Archive, you can also find photos of various functions and events of Youth Services.
Youth Services workers can upload work-related photos into the Digital Archive and also publish them through the Photo Archive if they wish.Nuorisopalveluiden työntekijät voivat tuoda työhön liittyvät valokuvansa digiarkistoon ja halutessaan julkaista ne myös kuva-arkiston kautta.
Where can I see the materials in the Digital Archive?
The Digital Archive uses a database provided by Gruppo Oy Avokkado: https://nk.gruppo.fi/
ou can come and explore the entire archive on location.
Contact us!
Please notify us in advance by e-mail or phone (tel. 041 512 1714, on weekdays 10:00–16:00) that you are coming.
Risto Kurho
risto.kurho@hel.fi
puh. 041–512 1714

Koskela Youth Centre
Antti Korpin tie 3
Cooperation partners
The archive was developed as part of the Myötätuulessa-project funded by the European Social Fund.