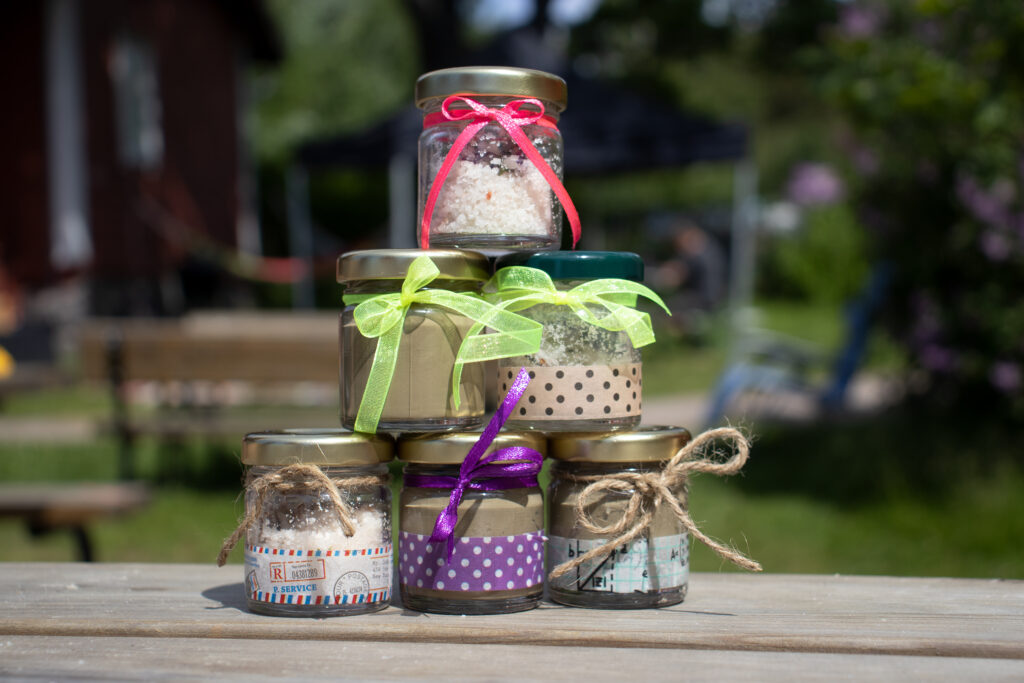 DIY natural cosmetics
Everything you put on your skin affects your well-being. The basic idea of natural cosmetics is that it must not contain chemicals that are harmful or dangerous to humans, nature, water bodies or organisms. Read more and start testing!
Natural cosmetics are cosmetics that are made by using natural raw materials.
More and more people are suffering from some degree of skin problems or allergies. It has been estimated that as many as one in three people have sensitive skin and one in ten people suffer from some form of skin allergy caused by the synthetic substances commonly used in skin care products, such as perfumes, paraffins, dyes or parabens.
Are natural cosmetics the same as allergy-free?
Natural cosmetics do not mean the same as allergy-free. However, in natural cosmetics, you get to control what you put in the jar yourself. Natural cosmetics also don't have to be done yourself, but it's terribly easy with the proper instructions.
When you make natural cosmetics yourself, you know exactly what ingredients you use and there is nothing extra in your product that you have not put there yourself. Natural cosmetics are sold in well-stocked stores and special eco-stores – of course, usually at a slightly more expensive price than if you made it yourself.
Animalia ry maintains a list of cosmetic products that have not been tested on animals, i.e. "Cruelty-free" products.
Ten reasons for natural cosmetics:
Everything you put on your skin affects your well-being.
Only genuine nutrition nourishes your skin, not unnecessary chemicals
You get 100% value for your money
A safe option without nasty surprises
Your hormone balance will thank you
Buying natural cosmetics is easy
Nature will thank you for your ethical choice
You will support a better and fairer world
You do not support animal testing and the industry behind animal testing
When you buy natural cosmetics, you do good, you support companies that perform their work with their hearts, you promote the well-being of nature and you get honest value for your money.
What supplies do I need?
Making natural cosmetics is easy. At home, you will usually find containers where you can easily make your products and then transfer them to a jar. The shelf life of the products is good if there are only oils in the jar and no water has accidentally entered it. Such a product will easily stay good for even a year. If the product contains something else, such as blueberries, the shelf life is usually 1-3 weeks and it is advisable to store the product in a refrigerator. However, oil-based products do not contain anything perishable and thus last longer.
You can order jars from the Puteli store:
We have used straight cylinder jars (brand CL-040) with a fill volume of 41 ml. These particular jars cost about 0.58 euros / piece + postage. In addition, each jar needs a lid, which is sold in three different colours. Price 0.12 euros / piece.
For mixing, we use wooden sticks for café use from a well-stocked grocery store.
Cleanliness and hygiene
For hygiene reasons – always use one mixing stick for one product, do not mix mixing tools or other tools when making natural cosmetics. However, it all starts out with disinfecting the equipment.
Jars and lids can be easily boiled or, when disinfecting larger quantities, you can put the jars in an oven at about 125 degrees for 15 minutes (however, do not put the metal lids in the oven). All bowls and pots should still be disinfected, even if they seem to be clean. The easiest way to do this is to boil water in a kettle and soak all utensils, including spoons, once more in the hot water.
Instructions for beginners
Recipes and instructions for a small group
Articles (in Finnish)
Luontoemo: Eteeriset öljyt
Nyt-liite: Näin teet kosmetiikkaa itse
HS: Trendikästä, mutta miten se eroaa tavallisesta?