Recipes for natural cosmetics: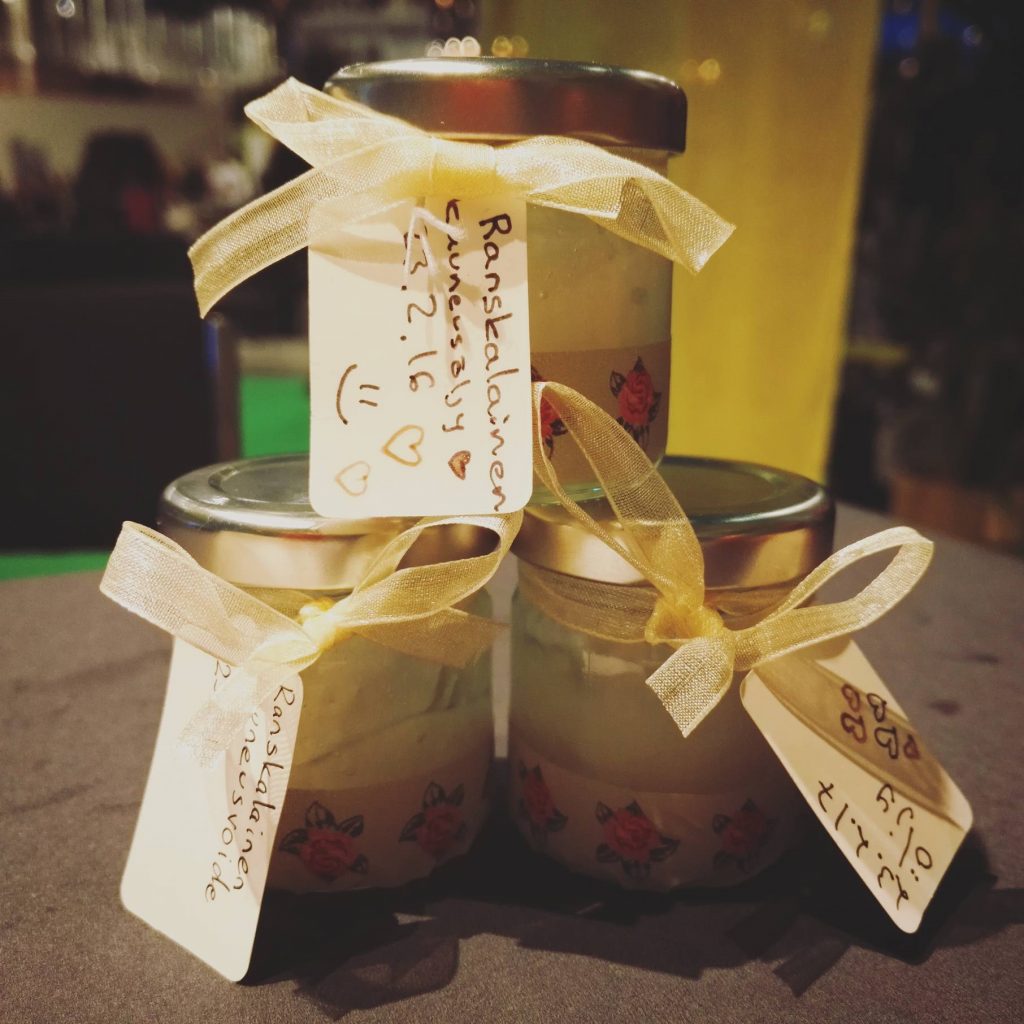 Recipes for natural cosmetics:
Flu cream
1/2 dl olive oil
2 tsp beeswax
1 tablespoon cocoa butter
10 drops of essential oils: eucalyptus, pine, peppermint, lavender
2-3 drops of tar oil
Melt the oils in a water bath. Add essential oils and tar oil. Stir until the cream cools and solidifies. Use to relieve the symptoms of the flu when rubbed on the chest and neck. Can also be used on lips.
Refreshing blueberry face mask
2-3 tsp white clay powder
½ tsp of blueberries
½ tsp of running honey
1 tsp rose water (or as needed)
2-4 drops of essential oil of lavender or peppermint
Mix all ingredients into a smooth paste and apply thinly on the face. Leave on for about 5 minutes / until the mask dries slightly. Rinse thoroughly with warm water. Store in a refrigerator for about a week.
French beauty cream (from the book Rose Water and Birch Leaves)
1 tablespoon almond or macadamia oil
2 tablespoons coconut oil
2 drops of apple cider vinegar
2 drops of essential oil (lavender, peppermint, rose)
Mix the oils together. Carefully add the vinegar and essential oil. Beat until the mixture cools to a creamy form.
Lovely lip balm
15 g of beeswax
10 g of cocoa butter
5 tsp olive oil or jojoba oil
5-8 drops of peppermint oil
Melt cocoa butter, olive oil and beeswax in a water bath. Dispense into a jar and add peppermint oil. Stir the oil mixture until it cools to a solid cream.
Bath salts
3 tsp coarse sea salt
1 tsp rose salt
5 drops of essential oil (lavender, peppermint, rose)
1 tsp crushed herbs e.g. lavender flowers
a couple drops of caramel colour
Mix the ingredients together. Use in a warm bath or foot bath.