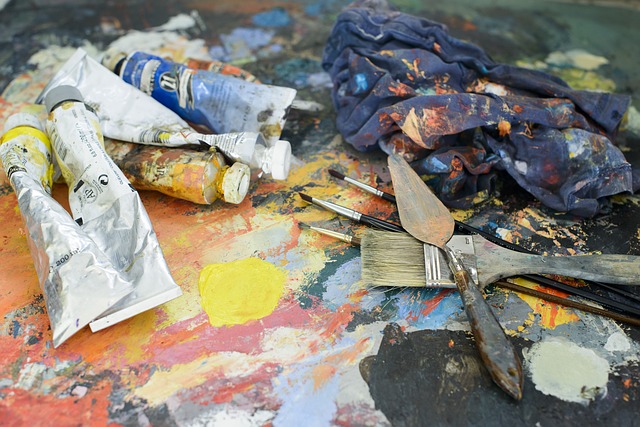 Art and vamping up
Environmental education aspects include the use of ecological materials, the promotion of environmentally friendly working methods and a respectful attitude towards the natural resources introduced.
Experiences in nature provide a lot of starting points for art and craftsmanship and act as a source of environmental sensitivity.
A lot of materials are used in fine arts and crafts – unless there is an intangible work being created. Art brings together a variety of young people and develops interaction skills on many levels. Even difficult things take shape when they are "understood" by doing by hand. With experiences of self-expression and success, the perception of oneself as a capable actor is strengthened.
Art allows young people to take a stand on social issues and stimulates debate on issues that are important to them. By participating in various campaigns and developing their own, young people can work for the environment and build a better world through their own hobbies. A close relationship with nature and art
Life story path
Let's shape our own life story into a small nature trail. Each builds their own path from natural materials. Let's walk each path together. Variation: compile self-portraits from natural materials to place in the terrain.
Power gift cards
Hold a gift workshop, where everyone vamps up a beautiful card with an empowering and encouraging idea written on it. The finished cards are shuffled and distributed to the group members in random order.
Each young person is photographed in a nature site of their choice
Textiles and other props can be used. Young people are asked to describe an emotional state or idea they want by choosing a place, position and props. Read more
Let's vamp up a product, , for example a t-shirt or bag, by thinking about one's own dreams, hopes, future goals, etc.
Healing the world with your own hands. Participate in campaigns that do something good for other people or animals. Studies show that helping others increases one's own mental well-being and happiness.
Security blanket and care bear. Memories of favourite childhood toys or clothes. Why were they so important? How can goods develop a sense of security? Realise the memory through artistic means.
What the outer shell says. Get to know different styles of dressing from fashion magazines, and think about what they want to convey.
Participate in current campaigns
such as Finnish Red Cross knitting campaigns. More information can be found online through search services.
An environmental art project will be implemented in the residential area.
Let's make an art exhibition for one's own environment (e.g. take photos of beautiful, ugly or polluted places in the area) and take it to be shown at a library, for example www.environmentalart.net
Knit graffiti is made and used to decorate the surrounding area.
Let's make ceramic bowls for the Empty Bowls event.
Let's make disappearing art. www www.environmentalart.net
Take a stand against the use of materials from endangered animals through art.
An idea competition on the use of recycled materials will be organised at the youth centre.
Young people are challenged to make an inventory of useless goods in their closets and a flea market is arranged, the proceeds of which are given together to a selected destination. Arrange a vamping up point for the flea market.
Take a trip to the recycling centre and pick up materials from there for handicraft activities (free craft exchange).
Develop intangible gifts in a Christmas gift workshop.
Positive energy cards with some good idea, made and vamped up. Let's go on a walk and leave the cards in places where someone may happen to find them.
Select non-toxic materials, and work together to develop ways to save warm water. Consider the chemicalisation of the environment. What chemicals do we use daily? Can the generation of hazardous waste in the art activities of the youth centre be reduced? vaarallinenjate.fi
Retrieving materials for handicrafts from nature.
Dye fabrics and yarns with vegetable and mushroom dyes. Paint florelles, i.e. massage the colours of plants directly onto the paper. Remember everyman's rights!
A bird event will be organised
Let's take a peek through binoculars and identify the birds in the yard of the youth centre. Make birdhouses and put them in place. www.birdlife.fi
Take plastic as the theme in the crafts group
Learn to identify plastic products and develop ways to avoid plastic in the youth centre and in your own life.
Organise a youth centre bicycle repair evening
Bicycle maintenance and repair
Collect all the broken goods from the youth centre to a specific place, and arrange repair volunteer work
Let's sew durable bags for the youth centre and find a place for them where they can be easily found when going shopping.
A lot of materials are used in visual arts and crafts. It is important to identify their life cycle. From the point of view of environmental education, the discussion about the circulation of matter on the planet is essential.
Let's discuss hoarding, wanting, and needing. What makes a person hoard stuff around them? Why do some people not want to use the stuff?
Consider what materials and which technology should be combined. How does it affect sorting, for example. What does eco-efficiency mean?
What materials are the most environmentally burdensome to use?
Become acquainted with the art and traditional handicrafts of different cultures, and consider how they describe nature and the relationship with nature
In ancient times, it was ecological – or was it! Let's go to the National Museum to look at the time before plastic and lavish consumption. Were things better than they are now? How would our everyday mornings differ from what they are today if we moved back 150 years in time? kulttuuriperintokasvatus.fi