Youth centres open as usual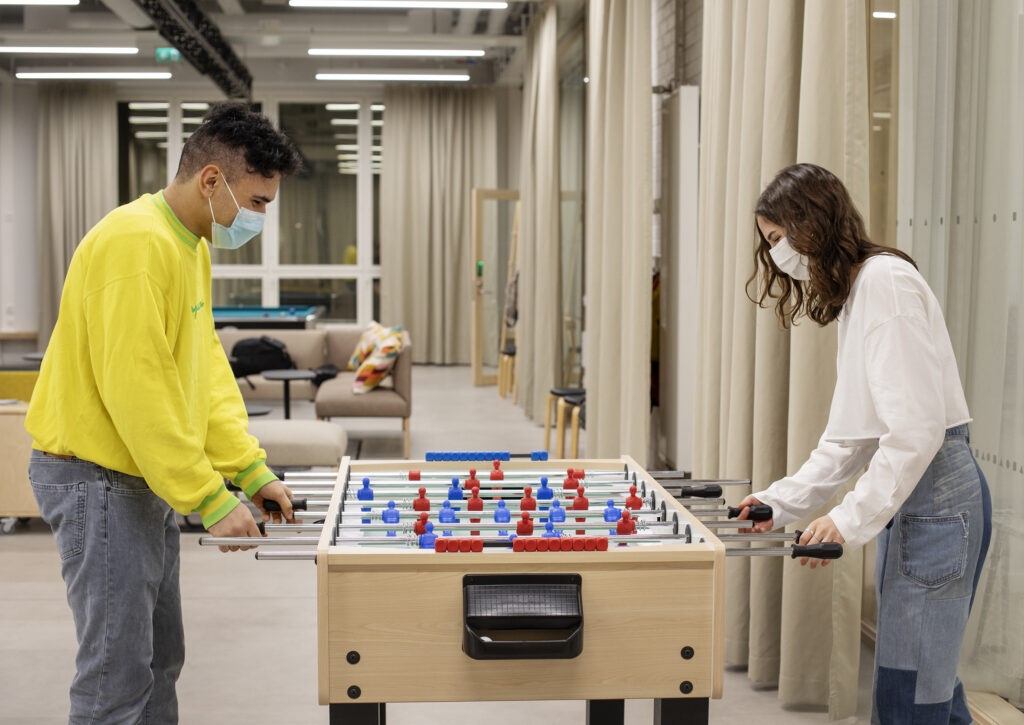 Youth centres open as usual
Due to the worsening coronavirus situation, the Regional State Administrative Agency for Southern Finland has decided to impose new coronavirus restrictions that also affect activities at the youth facilities.
What will change?
There will be no performances, public events or occasions at the youth centres between 28 December 2021 and 31 January 2022. Youth centres will only have guided activities for young people under 18. The COVID-19 passport is required from participants between the ages of 16 and 18. Similarly, leisure activities in the City of Helsinki's indoor sports facilities and swimming pools are only organised for young people under 18, i.e. those born in 2003 or later.
What remains unchanged?
Youth Centres will be open to visitors of all ages as usual. It means that you can still come to the youth centre without the COVID-19 passport just to hang out, for example. However, if you participate in a guided leisure activity, remember to show your COVID-19 passport if you are 16 years of age or older.
Services that will be open as usual
• Youth Centres will be open as usual after the Christmas holidays. The opening hours of all Helsinki youth centres can be found at nuorten.hel.fi
• Guided leisure activities for children and young people will continue in the City of Helsinki's indoor sports facilities and swimming pools for everyone under 18, i.e. those born in 2003 or later.
• The libraries will be open to visitors of all ages in the usual way, but there will be no public events or occasions or guided activities for people over 18. You do not need the COVID-19 passport to visit the library.
• Museums are also open to visitors of all ages, with the COVID-19 passport required for those aged 16 and older.
How can I get a COVID-19 passport?
You can get the COVID-19 certificate, or COVID-19 passport, from My Kanta at omakanta.fi. You can log in to My Kanta with your online banking credentials (suomi.fi identification). You can either print the passport or show it on your mobile device (take a screenshot or save the file on your mobile).
If you are unable to use My Kanta, you can now pick up your COVID-19 certificate from a printing point in Itäkeskus, Kannelmäki or Malmi libraries in Helsinki or the Helsinki Central Library Oodi. The printing service is intended for people who do not have online banking credentials or who have problems with their COVID-19 certificate in My Kanta.
The printing points are open on Mondays, Wednesdays and Fridays from 8:00–16:00 and Tuesdays and Thursdays from 10:00–18:00. People visiting the printing points must have their Kela card or ID card with them.
Please wear a face mask at the youth centre
The metropolitan area has returned to a broader face mask recommendation regardless of the level of vaccination coverage. So please, remember to wear a face mask when you visit us.
The City of Helsinki recommends the use of face masks indoors unless there is a health-related reason that prevents it. The use of face masks is also recommended on public transport. The mask recommendation will be in effect until 16 January 2022.
Please visit us only if you have no symptoms. Also, be sure to take care of good hand and coughing hygiene and keep adequate safe distances.
Let's look after each other!

The latest details of main recommendations and restrictions effective in Helsinki
Photo: Katja Tähjä