Uutela cabin, details and equipment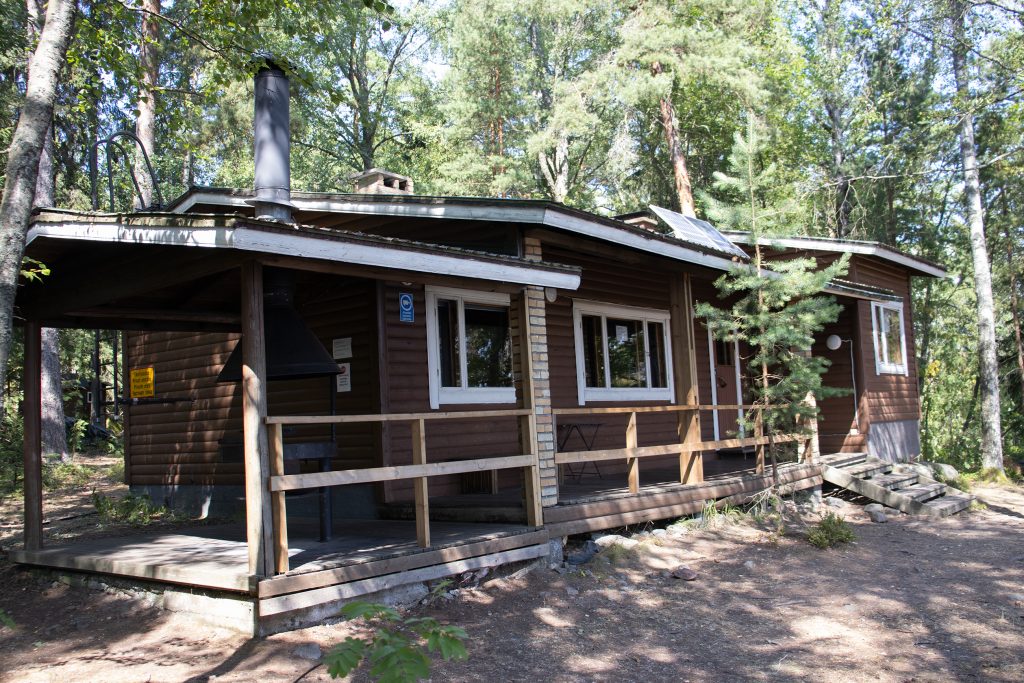 Uutela cabin, details and equipment
Uutela cabin offers a setting for small camps or day trips. The cabin is located near Meriharju Nature House at the end of a forest road, right by the sea.
Uutela cabin's equipment
The cabin's equipment level is modest. Lighting is provided with solar electricity or a storm lantern, while heating is provided with a fireplace or fire stove. There are no water supply or drain pipes. In addition to the cabin and its yard, the area also includes two outhouses, an outdoor storage facility and a beach sauna. Uutela cabin is only intended for use in the summer. The facilities can be booked from May to October.
The City of Helsinki's facilities are smoke-free and substance-free, and the principles of the Smoke-free Helsinki programme are followed in them.
About the cabin
Uutela cabin comprises a common room with a fireplace as well as two accommodation rooms and a kitchen
There is a barbecue hut on the outdoor terrace
Solar panels that power a small refrigerator and the lighting
Table and benches
Five storm lanterns
Instructions for overnight visitors
Uutela cabin can accommodate 11 people
The cabin is furnished with nine beds
Bring your own sheets, pillowcases, towels, pillows, matches and toilet paper with you
The water tap is opened from Meriharju Nature House
Pets must always be agreed upon separately before the reservation
Uutela cabin is not accessible; there are tree stumps and roots in the yard
The area has a very poor Internet connection
Kitchen equipment
3 pots, a frying pan, a coffee pot as well as tongs, a Muurikka pan and grilles for grilling
Small solar-powered refrigerator
Gas cooker with two burners (no oven included)
Eating utensils and dishes for 11 people
Water must be fetched from the water point outside; there is no drain in the kitchen
Cleaning equipment and cleaning agents
Sauna equipment
The beach sauna includes a dressing room/small group room as well as a sauna and a washroom.
The dressing room is furnished with two pull-out couches and a fireplace
There is no pier at the beach
There is room for roughly 1–3 people to wash up at the same time
Water must be fetched from the water point outside
Separate water heater