Our youth centre organises open activities for 9–17-year-olds. Clubs, excursions and all kinds of fun activities together with others are also part of the youth centre's programme.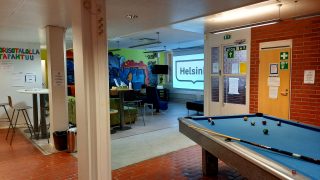 We are located in Suutarila Service Centre, in the same building with Suutarila Comprehensive School, Lower Stage, and Suutarila Library. Safe and trained youth workers are always present for young people.
Here you can craft items, do your homework and play pool, ping pong and board games. We also have computers you can use.
Remember your membership card
In order to visit the youth centre, you need to get a free-of-charge Youth Services membership card, also known as jässäri. You can get the form for the card from the youth centre. Upper comprehensive school aged young people must get a digital membership card independently via jassari.hel.fi
Welcome to the youth centre!
Visiting address
Seulastentie 11
00740 Helsinki
Postal address
P.O. Box 75403, 00099 City of Helsinki
Youth workers
Pete Peltokangas

, nuoriso-ohjaaja

pete.peltokangas@hel.fi

040 1941415

Anu Pälsynaho

, nuoriso-ohjaaja

anu.palsynaho@hel.fi

040 3578189

Pekka Pennanen

, nuoriso-ohjaaja

pekka.pennanen@hel.fi

040 6211846

Jussi Niiles

, nuoriso-ohjaaja

jussi.niiles@hel.fi

040 5771288

Mirja Silajärvi

, Toiminnanjohtaja, Koillinen nuorisotyöyksikkö

mirja.silajarvi@hel.fi

0931071599
Youth center phone number: 09 31071714
The instructors of Suutarila Youth Center can be reached by phone, e-mail and via Instagram.
Opening times
9–12-year-olds
Open activities Mon, Wed and Thu 13:30 -16:00.
On Wednesdays, the program includes bingo and on Thursdays, peer instructors direct games and competitions.
13–18-year-olds
Open activities Mon, Wed and Thu  17-20:45, Fridays and every other Saturday 17-22:45
Upcoming events
No upcoming events