Pitäjänmäki Engine Workshop
Pitäjänmäki Engine Workshop, also known as Mottis, is intended for young residents of the Helsinki Metropolitan Area aged 23 or younger who are interested in the traffic safety of vehicles. You will receive guidance and advice from the youth workers.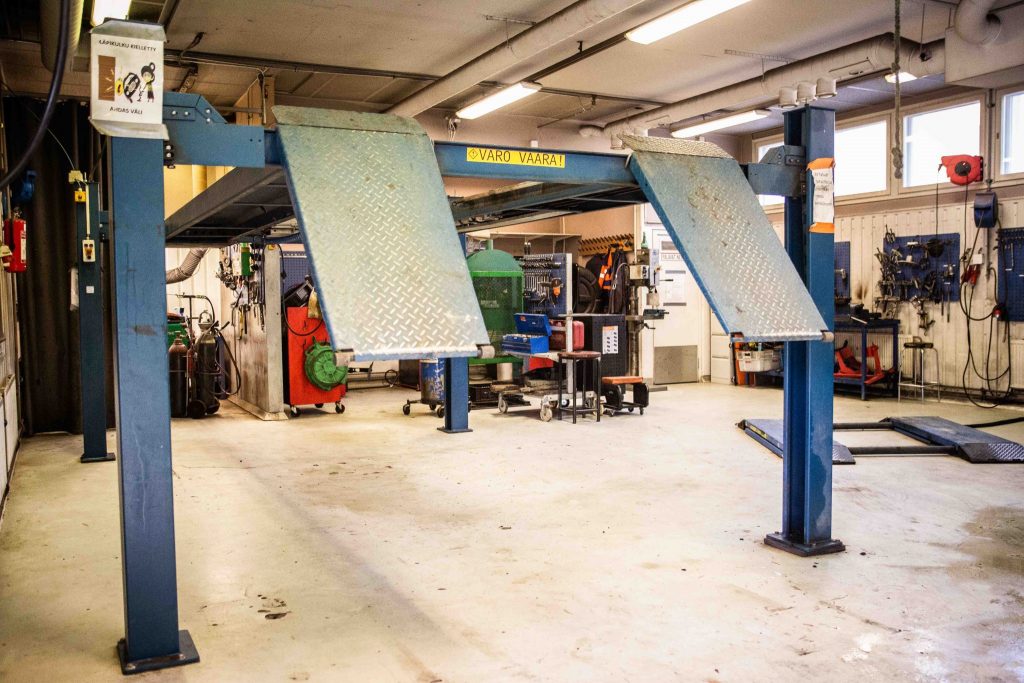 The engine workshop has good tools and equipment for vehicle maintenances and repairs. The hall is equipped with a four-post lift and a scissor lift. We also have a tyre changer and wheel balancer as well as welding equipment.
See the photo gallery
Use of the hall is free of charge, but a few procedures, such as oil changes, are subject to a very affordable fee defined by the Youth Committee. We accept debit cards and MobilePay as means of payment.
If you would like to give feedback about our activities, please send us a message or call us.
Get a membership card!
The City of Helsinki Youth Services' membership card is your free VIP pass to youth centre activities, events and hobbies all over Helsinki. The membership card is issued to all residents of Helsinki aged 29 or under. It is your ticket to all things fun! Get your membership card via jassari.hel.fi
Visiting address
Jousipolku 1 C2
00370 Helsinki
Postal address
P.O. Box 37403, 00099 City of Helsinki
Staff
Jussi Helenius

, Nuoriso-ohjaaja

jussi.helenius@hel.fi

0403502664

Jari Mehtonen

, Nuoriso-ohjaaja

jari.mehtonen@hel.fi

0406212240

Tuija Ronkainen

, Vastuuohjaaja

tuija.ronkainen@hel.fi

040 620 4163

Mika Tullila

, vs Yksikön päällikkö

mika.tullila@hel.fi

0931071682
Youth center phone number: 09 310 89086
If you want to give feedback on our activities, leave a message or call.
Opening times
Workshop is open.
Monday 14.00-20.30

Tue

ysday 14.00-20.30



Wednesday 14.00-20.30 

Thursday 14.00-20.30 

Friday 14.00-20.30 
Welcome!
Follow us on Insta:@pitajanmaenmoottorihalli ,
Snapchat: @pitskunmottis
and Facebook
Upcoming events
Operaatio Pulssi!

Operaatio Pulssi! Länsi

youth budget
05.10.2023 - 02.11.2023
Pitäjänmäki Youth Centre, Jousipolku 1 C2, Helsinki
Operaatio Pulssi!

Operaatio Pulssi! Länsi

youth budget
17.11.2023 - 01.12.2023
Pitäjänmäki Youth Centre, Jousipolku 1 C2, Helsinki
Operaatio Pulssi!

Operaatio Pulssi! Länsi

youth budget
Sat 16.12.2023, at 17:00 - 20:00
Pitäjänmäki Youth Centre, Jousipolku 1 C2, Helsinki