Luuppi Media "MediaLuuppi"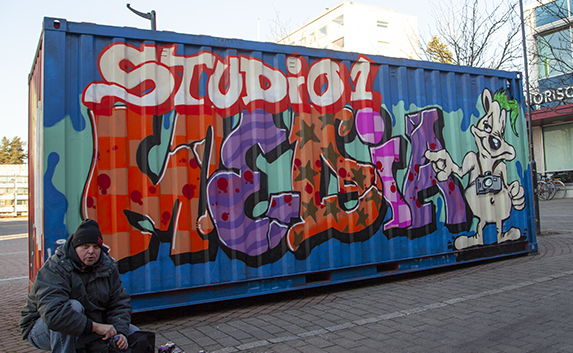 Luuppi Media "MediaLuuppi"
Luuppi Media offers activities for young people aged 15-29 and school groups. Contact us if you plan to implement your own photography or video project, e.g. documentary, short film, music video, video blog, interview, promo photo, profile photo, etc.!
In the green screen studio, you can take photos and stream in studio conditions. In street art, you can try graffiti painting in permitted locations. We also regularly photograph bridge sites, as well as indoor and outdoor spaces.
Street art and graffiti workshops are free-of-charge for 15-29-year-olds. You can register in advance or come directly to the event we are participating in. We use air brushes, markers, watercolours and spray paints in our workshops.
You can find the entrance to the studio under the canopy of the youth centre at the corner.


Staff
Media producers, Photography & Video Productions:
Jari Mäenpää
jari.maenpaa@hel.fi
p. 040 336 2103
"Muha" Taha
mohammad.taha@hel.fi
p. 040 336 1082
Street art
Samuli Turunen
samuli.m.turunen@hel.fi
p. 040 528 9257